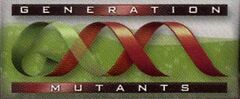 Generation Mutants is a series of Syfy original television movies and films released on DVD in France. The series' DVD covers feature the faces of human males crossed with a species of creature and the series began in 2004 with Skeleton Man, which was later followed in 2005 by films such as Predatorman, Mosquito Man, Sharkman, and Snakeman.
Ad blocker interference detected!
Wikia is a free-to-use site that makes money from advertising. We have a modified experience for viewers using ad blockers

Wikia is not accessible if you've made further modifications. Remove the custom ad blocker rule(s) and the page will load as expected.